Sidebar
I LOVE SALTS | 30ML
---
We will be offering a free display case to all brick and mortar shops that purchase the full line - 6ct of each flavor (3 25mg & 3 50mg - 36 Bottles Total). With the delivery of display,stores will receive a free 25mg sample pack (while supplies last)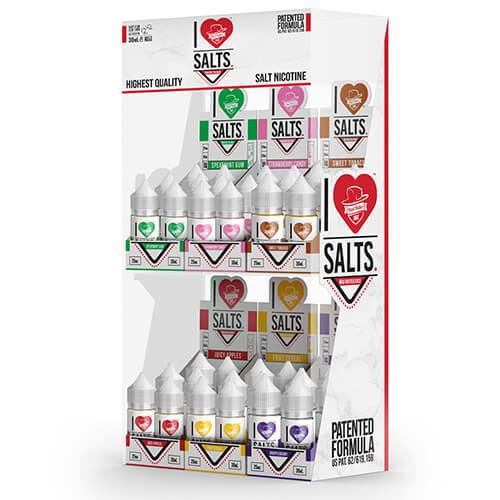 FLAVORS :
Fruity Cereal : Do you remember back to those mornings when your mom or dad would come into your room to wake you up before going to school. You'd have all sorts of different excuses that you would make in attempts to stay in bed for just a few minutes longer. The one thing that would have you throwing back the sheets and getting your clothes on would be the sound of your favorite cereal being poured into a bowl, you can't procrastinate when there is cereal on the line! The best way to start any day, a good sweet cereal can do so much for your mindset and in turn make your life feel way more positive than it would without it by your side. Like a bowl of sunshine, you instantly feel uplifted and happy when you taste these flavors that remind you of all the fun that you used to have as a kid. Your responsibilities disappear for a little bit when you taste this blend and focus on the wonderfully sweet flavor that's bursting inside. I Love Salts E Liquid has really done some of their best work with this juice that has such an authentic flavor that everyone will be able to recognize and appreciate. The fact that it's made with salt nicotine pushes it over the edge and makes it ideal for anyone who likes to have a more impactful blast of nicotine added into things. Take your time, enjoy the experience and forget about the stress of having to shovel your cereal into your mouth as fast as possible to avoid any sogginess. I love Salts E Liquid is manufactured by the award winning Mad Hatter E Juice.
Grappleberry : Refreshment is only a vape away with this wonderful blend that mashes together two different flavors to make one spectacular taste that will take your breath away. Imagine wandering throughout the desert for hours on end with an empty canteen and no cactuses in sight, then you come across an oasis that has a waterfall of bold, ice cold fruit juice that you can drink until you've had your fill. We might not all be adventurers but we can definitely sympathize with that feeling of an unquenchable thirst, whether it was from playing sports in the summer time or sleeping during the winter time when the heat was on all night and you wake up feeling as dry as can be. This juice is going to have you feeling refreshed, revived and back to your old self again in no time. I Love Salts E Liquid is made and mixed by Mad Hatter E Juice who makes vape juices and has now launched this line that are produced with salt nicotine to make some of the most delicious flavors imaginable that not only deliver on taste but with that nicotine that you crave at the same time. With more impact per inhale, using blends that are made with salt nicotine is the way to go if you are trying to kick the habit. Grappleberry combines freshly picked off of the vine bold, sweet grapes and crisp, juicy apples to make this fruity blend that will have you feeling energized and pure. With long lasting taste and a smooth texture, this will be the key to your all day pep and positive attitude that spreads cheer and gets everything on your agenda accomplished.
Juicy Apples : It doesn't get more simple, pure or delicious than this blend that brings us back to nature and showcases how amazing that a well made vape juice blend can be. If you are new to vaping all together or someone who has been around the block a few times and think that they've seen it all, there is value in a sturdy basic. This is the sort of blend that is going to come in handy all of the time, it might not be loud, it may not be crazy but it's good, real good. On those days where you're struggling before having to head out the door going back and forth between what juice do you want to bring along with you, you can just load this juice into your tank and know that you are going to feel satisfied and happy to be able to vape this blend. I Love Salts E Liquid really does do an amazing job at creating flavors in a really honest, authentic way that makes your mind struggle with trying to reason that the flavor you are experiencing isn't the real thing. That's so powerful and really shows how far that this industry has been able to come and marks just how high your standards should be when it comes to different vape juices that you try. All of the blends in this line are made with salt nicotine so that you are able to get a much higher nicotine amount with every puff that you take. This blend is nothing but pure, natural, full tasting apple realness that will have you thinking back to when you'd be driving around on your bike and see a big, luscious apple tree with the ripest, shiniest apples that were ready to be picked! Blended and mixed by the award winning and worldwide sensation that is Mad Hatter E Juice.
Spearmint Gum : Mad Hatter E Juice brings you Spearmint Gum by I Love Salts E Liquid. Regardless of what kind of vapor you are and how many different juices that you have in your collection, you need to have a good minty blend to draw for whenever you need a little freshness in your life. This is a must have staple that's really worth its weight in gold and will find itself filling up your mod over and over again. This is a juice that can really do a double duty, not only is it delicious but it's also fabulous for helping to freshen up your breath and give you a jolt of invigoration that will have you going from tired and lethargic to wide awake and ready to get to it! There is nothing better than being able to get the most bang for your buck and having the comfort of being prepared for any situation. You will feel so efficient and happy with your choice to purchase this blend in particular. I Love Salts E Liquid is so good at making blends that are going to appeal to anyone who is trying to kick smoking to the curb, they develop all of their juices with salt nicotine which is stronger and serves to crush those cravings much better than your typical blends. Not only do they utilize this amazing technology but they release juices that are going to meet the needs of your taste buds as well. Spearmint Gum recreates that classic sweet, minty gum flavor that we all love seamlessly. It has a really impactful flavor that hits your senses and makes you feel like every single cell in your body is awakened. One of the most fabulous things about this blend is that you get all of the taste that you know and love without it ever going dull or losing its flavor.
Strawberry Candy / Sweet Strawberry : The sun is shining, the snow is melted and the birds are singing. It's a beautiful spring day that is full of new beginnings and the promises of a bright, happy future. This juice embodies that fresh, renewed, carefree feeling of this wonderful season in its sweet, vibrant flavor that seems to part the clouds and make things feel happier. Vape juices can really have a huge impact on your everyday life by changing your mood which in turn makes life so much more positive and when you feel good, those around you feel good too! That's a wonderful thing that is so valuable and unique to vaping. I Love Salts E Liquid makes all of their juices with salt nicotine for a more impactful inhale, no only do their blends taste good but they are creative and fun as well. Inspiring as well as high quality, you are going to without a doubt fall deeply in love with everything that this line puts out. Strawberry Candy captures the bold, vibrant flavor that you get from ripe, natural strawberries and infuses it into a sticky, sweet gummy candy base. You are going to recognize its flavor right away and have those nostalgic feelings that make your heart skip a beat. This is that exact same candy taste that you would spend all of your allowance and any other coins that you could find stashed in your couch on. You'd run down to the candy store and get a bag filled to the brim with treats just like these and have them all gone within minutes even if you planned on trying to space them out so they would last until next week! You can trust the quality and consistency of the product as you have come to know and love the Mad Hatter E Juice brand of vape juice.
Sweet Tobacco : We can hear you shouting for joy from all the way over here! Yes, I Love Salts E Liquid has finally come out with a tobacco based blend that will come together with their use of salt nicotine to make the ultimate vape juice flavor that will help those who are trying to quit smoking do it with so much ease. This is really the answer to so many vapers prayers, salt nicotine provides more nicotine impact per puff which is far more satisfying than your average vape juice blend. This juice is the epitome of all day, every day, smooth flavor that will have your taste buds feeling pleased without being overwhelmed. A staple juice that will find itself filling your tank more times than not and will be a great investment for anyone who is trying to grow their collection with quality liquids that will meet their high standards. Sophisticated and classy, this flavor will remind you of an expensive cigar that you would find at a specialty shop, it's profile is so well formed and expertly put together that you will be nothing short of amazed. Sweet Tobacco is your traditional deep, earthy, rich tobacco taste that's been infused with premium vanilla and a sweet custard to make a complimentary mixture that will have your taste buds bouncing off of the walls. All of these different aspects provide such an excellent balance and complexity to this juice that makes it so good at keeping up your attention even after prolonged use. Feel warm on even the coldest of days with this comforting blend that has a great way of making you feel comforted and secure. Another masterpiece by the people behind the highly rated and creative brand of Mad Hatter E Juice.
Tropic Mango : Tropic Mango delivers a juicy mango, smooth coconut, and crisp pineapple vaping experience. A delicious fruit medley of tropical flavors for a refreshing blast of fruit throughout the day.
Available in 30mL e-liquid bottle and utilizes salt nicotine to achieve high nicotine level.
Blue Raspberry : If you're a fan of any popular blue raspberry candy, you'll love this blend of sweet raspberries and slightly tart nicotine salt juice.
Pacific Passion / Blue Strawberry :
Exquisite blend of fresh tropical pineapples, ripe juicy strawberries and silky smooth coconuts.
Luau Lemonade / Pink Lemonade :
Refreshing lemonade flavor that's infused with fresh tropical pineapples and mouthwatering watermelons.
Island Squeeze / Strawberry Guava :
Tropic island filled with outrageously juicy kiwis, dazzlingly sweet strawberries and exotic guavas.
Blue Raspberry ICE :
Tart and sugary blue raspberry is given the menthol treatment, resulting in a flavor that invigorates on every level.
Classic Menthol :
The ideal nic salt for vapers that use to smoke those menthol cigarettes. Unlike those cigarettes, this flavor has no smoke and none of the other harmful chemicals. Just a cool minty taste that will have you feeling invigorated while your cravings are satisfied. I Love Salts Classic Menthol is both tasty and brisk, offering up a sensational and refreshing burst that can be felt with each inhale and exhale.
Available in 30mL e-liquid bottle and utilizes salt nicotine to achieve high nicotine level.